In a previous post my sister was generous enough to give us a look into her world of crewel embroideries, I myself do cross stitch, or to be more precise counted cross stitch embroidery. I also do crewel but my niece in Edmonton introduced me to cross stitching a number of years ago and I enjoy it more.
YOU START WITH a simple piece of fabric, Cross Stitch Fabric Buying Guide.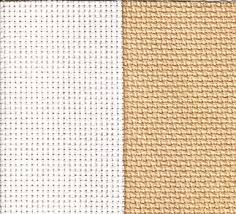 YOU FOLLOW a detailed chart that lets you know what color of floss to use, as well as what stitch type. Every square on the chart represents a stitch on the fabric.
YOU END UP WITH a beautiful piece of art to hang on your wall.
This is an extremely simplistic way of explaining how to create a cross stitch.  For anyone who has looked at a kit it requires patience as well as attention to detail. I love first of all shopping for a new kit, or I've purchased a software that can convert pictures into charts, so I can create my own kit. I'll separate the thread by color, study the chart and instructions to know what stitches I'll be using.  I like when I get a kit that introduces me to a new type of stitch. I then make a copy of the chart, using the copy to keep track of my progress by crossing off the squares I've stitched as I go along. There's such a sense of pride of being able to take that piece of fabric and convert into someting beautiful.
DO I KEEP IT OR SELL IT
For me that's not a hard choice, I keep my pieces or give them as gifts. It's difficult to put a price on a cross stitch because you've invested so many hours to complete it.  If someone would want to know how to sell a cross stitch I've found a very interesting blog that talks about Trademarks and Copyrights, very important point.